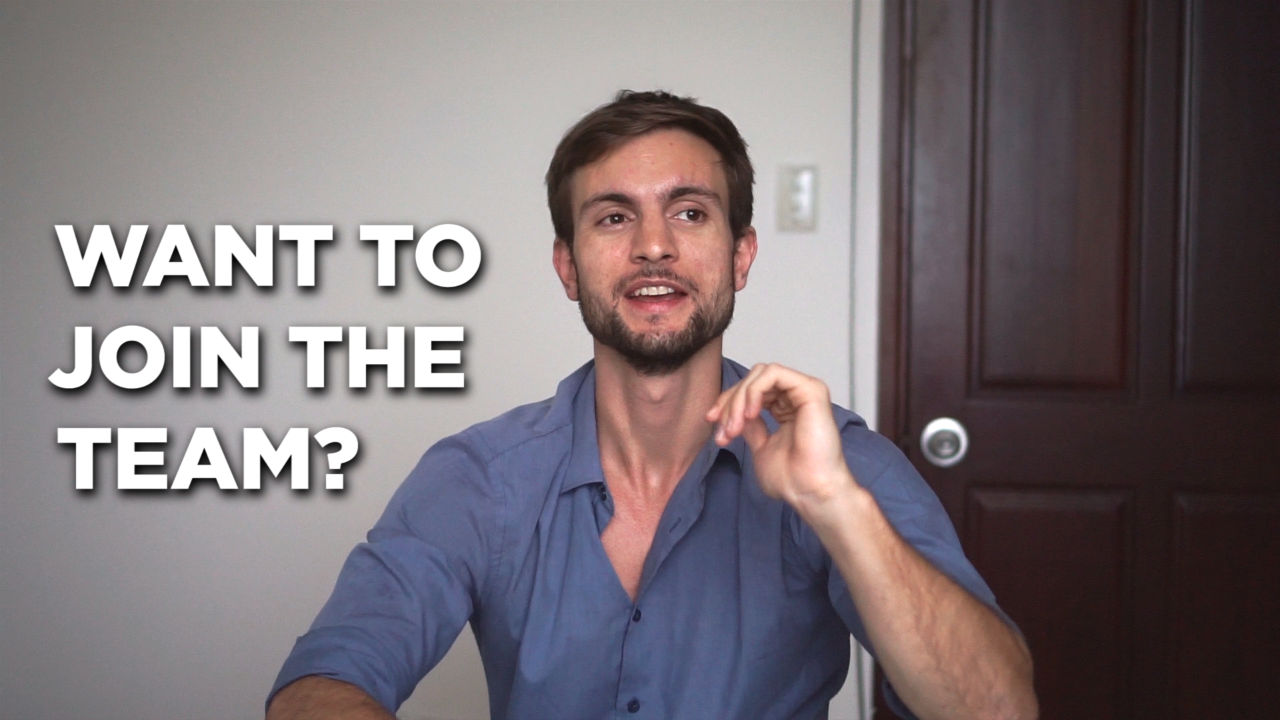 The Ninja Teacher Team Is Hiring (again)
[This position has been filled for the time being. Thanks to everyone who applied!]
Hey,
I'm hiring again at Ninja Teacher.
The position involves 3 main roles:
Being a Program Advisor, being Ground Support and featuring in YouTube videos.
1) Program Advisor
This is the most important role of the position. You'll be one of our go-to people that interacts with potential customers. The Program Advisor role includes making phone / Skype calls, replying to emails and social media questions in a timely and dependable manner on a daily basis.
You'll also learn a sophisticated CRM (Customer Relationship Management) software and use it correctly.
You need to believe in what we offer, get people excited about teaching abroad and you need to be an ambitious go-getter as you'll be rewarded based on your performance. If that doesn't sound like you then it's probably best if you stop reading here. 🙂
2) Ground Support
This involves being available to give in-person support for our teachers in Ho Chi Minh City.
Regularly meeting up with teachers, being available via messenger apps and email, regularly following up with teachers to see how they're doing, and organizing events in the city.
3) Featuring in Videos
You'll also regularly feature in and participate in the filming of YouTube videos.
You should be comfortable being in front of the camera and expressing your personality for our audience to get to know you (or at least be willing to working on it.)
We'll be capturing day to day life in Vietnam, interviewing teachers and making other lifestyle related videos. Ocassionally I might ask you to help film me to get certain shots.
I'll mostly be filming during and around the times you're working in the Program Advisor and Ground Support roles so it's not really any extra work for you. Sometimes, though, we'll organize to go film a video outside of those hours.
A big reason for being in the videos is so that you're recognized by our potential customers, and have people get to know and trust you. This means it's an integral part of being successful in your role as Program Advisor and Ground Support.
I'm looking for someone that's excited to be part of the team, that sees the value of learning to talk in-front of  a camera, that's excited about creating inspiring and helpful videos, and wants to help contribute to and grow the teaching English abroad community. If you aren't someone that would want to do this for fun and the experience then it's definitely not going to work out.
Bonus points if you have film making and cinematography skills and feel like you can contribute more than just being in the videos.
Requirements:
Have taken the TESOL course we offer in Vietnam
Teaching experience in Vietnam
Friendly and outgoing
Extremely responsive with email and and social media communications
Able to speak confidently on the phone and follow a call structure.
Available for several hours of work per day on weekdays (including early mornings due to making calls with other time zones.) You'll also need to be available on Saturday (day) and Sunday (evening) one weekend a month for our TESOL course welcoming weekend.
Organized and reliable
Based in Ho Chi Minh City and able to meet me in and around the city
Have your own laptop
Salary
Competitive hourly rate for all work done as a Program Advisor and Ground Support, plus potential to earn bonuses on sales commissions once you're fully trained. Travel time isn't included in this. We can work around your current teaching schedule as long as you can commit enough time and energy.
Ultimately looking for someone who wants to work for Ninja Teacher long term.
If you'd like to apply for this position please fill out the form below.