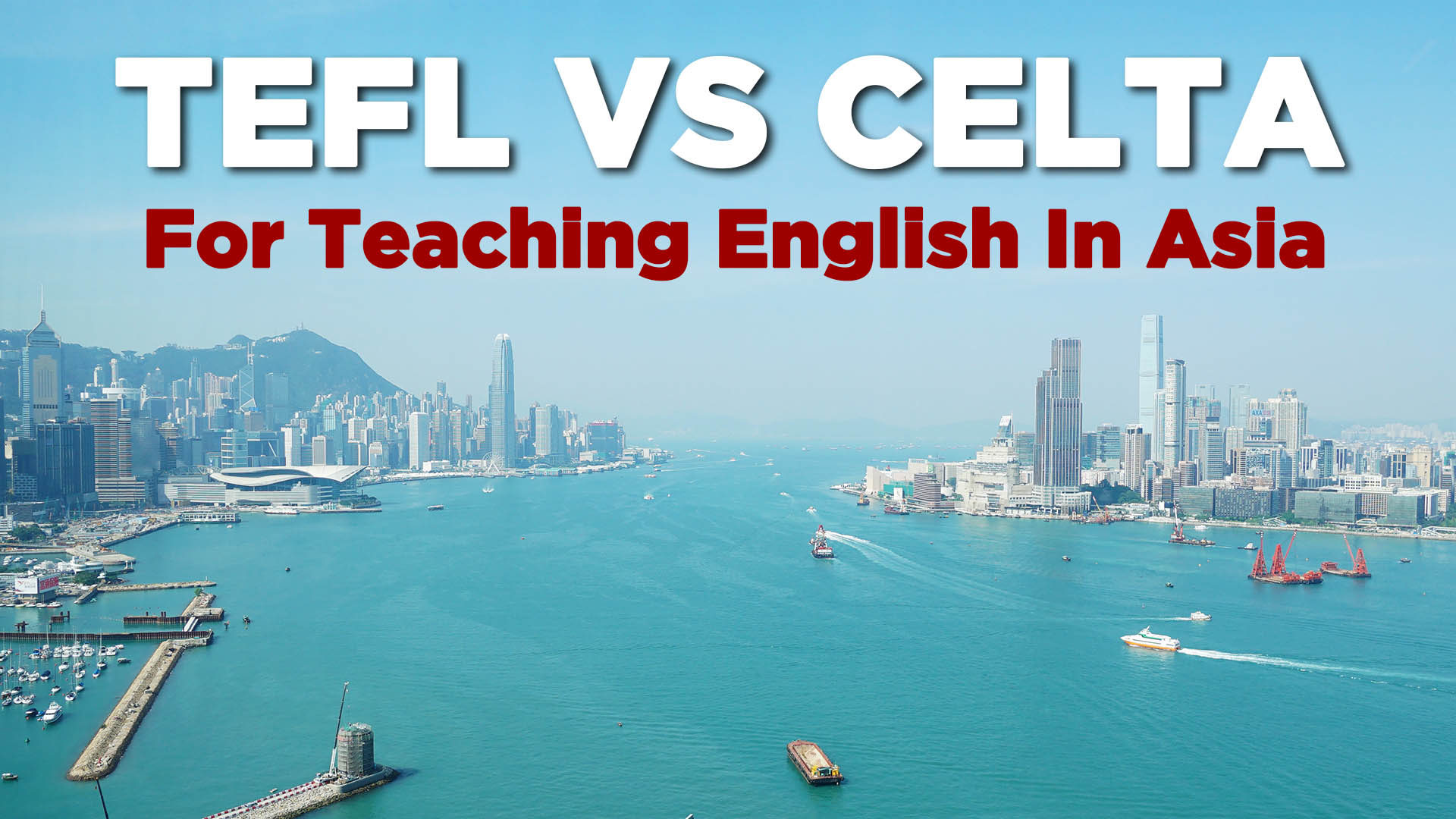 TEFL vs CELTA Certification For Teaching English in Asia
Back in 2013 right before I left to start teaching English in Korea I took the month long CELTA certification.
These days, after years of living and teaching English in Asia, my company Ninja Teacher now primarily offers TEFL / TESOL certifications.
Why is this? And what should you know about the differences between the two commonly referred to teaching certifications? Most important, which is best for teaching English in Asia?
So here are a few points about an in class TEFL/TESOL vs CELTA to help you make the decision about which one is right for you.
A Quick Explanation Of The Terms
TEFL - Teaching English As Foreign Language
TEFL is a term often used to described the teaching English industry as a whole. It is also a type of teaching English certification. There is no single authority that issues TEFL certifications which is one of the reasons the standards of courses vary.
TESOL - Teaching English to Speakers of Other Languages.
TESOL is another widely used term and, like TEFL, it can be used to describe both the industry as well as a certification. It is also considered to be an umbrella term that incorporates TEFL as well as TESL (Teaching English as a Second Language) which has more to do with teaching English to second language English speakers in an English speaking country.
Because we're dealing specifically with teaching English abroad TESL doesn't really factor in, so TESOL and TEFL are often used interchangeably. There are also no significant difference between TEFL and TESOL courses.
CELTA - Certificate In English Language Teaching To Adults
The CELTA is Cambridge's teaching English certification and widely regarded as one of the best teaching English certifications.
However, one should note that this certification is considerably more expensive as you're paying for the Cambridge brand name. Also, it's important to take a look at the pros and cons before assuming this is the right certification for you just because it's associated with a reputable college.
Pros and Cons of CELTA and TEFL / TESOL
Student Age
The CELTA training methodology is geared towards adult teaching whereas an in-class TEFL typically focuses on preparing you for several age groups, with practical classes with a range of different age groups including young learners, teens and adults.
While there are some adult teaching jobs in Asia, the vast majority of positions are with young learners. It can be a challenge to adapt the CELTA style to meet the needs of younger students.
Teaching Style
The actual training methodology taught during a CELTA is effective when following it strictly, however, most schools and English centers in Asia will not be familiar with the style and you'll likely be asked to follow a teaching methodology that is more similar to what you'll learn in a TEFL course.
The Biggest Drawback of The CELTA
The CELTA also does not place much emphasis on what is perhaps the biggest challenge of teaching English in Asia, which is engaging and keeping your students interested so that you can effectively deliver a lesson. Classroom activities are a large part of this and the CELTA hardly covers these at all.
International Recognition
It's hard to argue that the CELTA is a great qualification to have on your resume for jobs in Europe and the Middle East.
Increasingly in Vietnam, too, the CELTA is being asked for (but is not required) by schools. However, what is asked for and what actually gets you a job in Vietnam is not necessarily the same thing as I explain below.
TEFL on the other hand, is the most commonly requested qualification in countries such as Korea, China and Thailand. Honestly, in these countries I've noticed no advantage in having a CELTA - in fact many of the schools in Korea and China I've spoken to don't even know what the CELTA is.
When I first got my job in Korea, I was hired on the condition I would complete a teaching English certification. I told the school I intended to take a TEFL certification and it was on this basis that they hired me. It was only later that I decided to do the CELTA instead but I was already hired - so the qualification had nothing to do with me getting the job.
Cost
As for cost, taking the CELTA will typically be considerably more expensive than an in class TEFL / TESOL due the Cambridge accreditation fee. The cost of the CELTA usually does not include accommodation either, where as many TEFL courses in foreign countries do.
Accommodation for a month in the city like Ho Chi Minh City, Vietnam will likely be around $300-$400 on top of the cost of the course.
I do recommend taking whichever course you decide on in the country you decide to teach in as it's a great way to meet people and adjust to the culture, and because of the ease of finding a job while in the country.
Accreditation
The CELTA certification has high standards which is one of the reasons why it is highly regarded. External moderators evaluate the instructors and your written work and you will be failed if you don't perform.
This also leads to a high level of pressure for a lot of the students on the CELTA. I personally found the whole course quite stressful and many, many others I've spoken to felt the same. While I do see the merit of challenging training that really pushes the student, there's also something to be said for a more supportive, collaborative learning style that many people respond better to and would allow them to progress at their own pace.
There is no standardized TEFL / TESOL authority which means that some courses may not have the standards of the CELTA. However, you can recognize a good TEFL / TESOL course if it has a high level of accreditation, such as being accredited by a government or university / college. For example, our TEFL / TESOL course in Vietnam is Australian government accredited.
Finding a job
This is where thing get interesting.
Teaching experience is absolutely king when it comes to finding high quality teaching English jobs abroad. It's hard to stress this enough - while people can find good jobs right after finishing their teaching English certification, teachers really hit their stride and can land the best jobs after a year or two on the job - it's what schools ideally want to see.
Also, while many people claim schools prefer the CELTA in countries like Vietnam, we've been able to find jobs for graduates of our TEFL / TESOL course at the top schools in Vietnam, with no difference in pay to those with a CELTA. It's hard for me to justify recommending the extra cost and stress of the CELTA.
Your first teaching English qualification should be to help you get your foot in the door and land the best possible job you can to start with and in my experience a high quality and well recognized in-class TEFL / TESOL course does a good job of this.
Professional Development
Where I think the CELTA really shines is as professional development for teachers who already have experience and would like to add to their resume. For me, the CELTA was like diving in the deep end and didn't feel like it focused on what I should have been focusing on as a new teacher. I feel like a TEFL would have been a far better starting point. Then, after some experience, the CELTA could be a great option to learn new techniques and add to your resume.
Conclusion
While the CELTA is a great certification to have on your resume if you plan to continue your career as an ESL teacher, my recommendation would be to take it after a year or two of teaching English classroom experience, as professional development training.
My experience has led me to believe that a TEFL may be a better option for someone just getting started teaching English in Asia because it focuses on the key skills that will help you succeed in the classroom in countries such as Vietnam, Korea, China and Thailand.
You can learn more about the TEFL / TESOL courses we offer here: Vietnam | Thailand | Cambodia